Divorce and Revoking a Will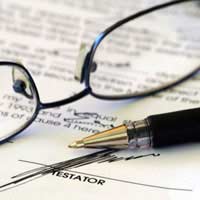 Having written a will it is vitally important that it is kept up to date. This particularly involves making alterations when major life events occur; these might include marriage, the birth of a child, or divorce.
Divorce is one of the most fundamental events with which you must deal in your testament. If not dealt with properly, it can cause the entire will to be annulled; other problems such as the incorrect appointment of witnesses (for example if it is found that one or both of those individuals who witnessed your signature are found to also be beneficiaries of the document) mean that certain parts of your will may be invalid, but a divorce has the capacity to lead to the equivalent of intestacy.
Intestacy Rules
When you marry, any will that you may have written previously is automatically revoked. The only exception to this is if you have given explicit instruction in the document that a marriage or civil partnership is about to be entered into; in this case the will may still be valid. In the case of divorce, however, the will must be re-written. If you divorce after having written your will, then at the very least any passage concerning gifts to your previous spouse will be disregarded. In the worst case, if you have instructed that all your assets should be left to your spouse, then it is possible that you will be left in no better a position than if you had died without writing a will at all. In these circumstances your estate will be divided up according to the
Rules of Intestacy
, and you will not be able to guard against
Inheritance Tax
through devices such as trusts.
In order to prevent this outcome, it is very important that you draft a new copy of your will if you were ever to get divorced or have your civil partnership annulled. You should also remember that, if you are not remarried, you will need to explicitly outline the intended beneficiaries of your will; only spouses or civil partners are entitled to the 'exemptions' from Inheritance Tax or the assumption that they will inherit. If you are not married or in a civil partnership but you do not state your intended beneficiaries in your will, then your estate will skip to the next level in the intestacy rules.
Revoking a Will
Of course, there are certain instances in which you may wish for your will to be revoked. Again, perhaps as a result of an important life event, or simply because of a rethink of your financial situation, you may prefer to write an entirely new document. This is, in fact, very easy to do: the first line of any will should state that all previous such documents are revoked by the creation of this one. As a result, your latest will is always the one that will be legally valid. However, in order to prevent confusion, you should try to ensure that every copy of any previous will is destroyed after the creation of the latest document. This may also mean retrieving copies from places such as a solicitor's office or the UK Will Register.
You might also like...
Three years ago when my wife, now deceased, was in a nursing home I had a will written that left everything to my wife's great grand daughter. Due to a change of circumstances I want to leave everything to a good cause like the ASPCA. Is there a simple way to do this or do I need to write a new will?
Geoff
- 4-Jul-19 @ 7:47 PM