Mental Health Act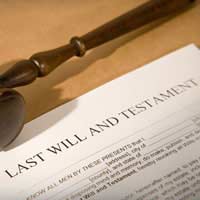 What is the Mental Health Act?
The Mental Health Act (1983) which was reformed in 1999 is an important piece of legislation when it comes to the welfare and care of those individuals who may suffer from a mental illness or illness brought about by reasons of emotional instability.
Such an act is important when it comes to the provision and making of Last Will and Testaments.
Making a Will
When one decides to make a will it should be for the right reasons and under good physical and psychological conditions. In recent times there have been many court cases brought because of Wills being made by individuals suffering from mental illness; these Wills are contested in a court of law and it is up to those people who think they are legally obliged by law to the proceeds of an estate to prove this beyond any reasonable doubt to a judge.
One of most important aspects of making a Will is that it is signed by an independent and impartial individual who does not seek to benefit from the Will and can therefore witness it without prejudice. This is also an important factor when it comes to proving the validity of a Will if it is contested because of a person's mental state.
The Mental Health Act and the provision of Last Will and Testaments
There is nothing specifically contained within the Mental Health Act (1983) that says an individual cannot make a Last Will and Testament. However the MHA does make provision for the correct medical and psychiatric diagnosis of an individual who is suspected of suffering from a mental illness.
With this in mind a formal application should be made by an Approved Social Worker (ASW) or close relative if there is doubt as to the emotional well-being of an individual.
Under these circumstances an individual can be taken into hospital care for a period of time to ascertain their mental state (this is referred to as being sectioned) and during this time both consultants and psychologists alike will try to diagnosis any underlying illness which may occur.
Contesting a Will
A Last Will and Testament can be contested if there are suitable grounds. These grounds can be if others close to the writer of the Will think that he or she has been wrongly influenced into making their Will or if they feel that the writer of the Will was not of sound mind. If an individual is proven not to have been of sound mind at the time of a Will's writing then the will becomes null and void and the estate – and its contents – is then divided in a manner which the presiding Judge sees fit.
If a Will is contested then the Mental Health Act may be called upon as a means of proving their instability and also any expert witnesses such as Approved Social Workers (ASW), Consultants or Doctors, may be called upon to give evidence.
Likewise these experts may be called upon to prove that no mental instability was registered and that the writer of the Will was indeed of sound mind thus making any contest of the Will void.
It is important to note that if a Judge is not convinced as to the validity of a Will due to causes of mental illness he may not released any of the deceased's estate until such times as he or she is happy that the matter has been resolved to the satisfaction of all parties.
You might also like...
@Furthy34. Has he been officially diagnosed with memory/dementia problems? If so the last section of the article above may apply.
TheWillExpert
- 16-Jun-15 @ 10:14 AM
My father has very little short to medium term memory and hence he will ask you a question and 2 minutes later he will ask you the same question again. He had a Will that he made in 1998 with a solicitor when his memory was excellent. I have discovered that in November 2014 he wrote another Will with another solicitor from the same firm as the original. There is no way that he would have thought of going to change his Will himself. He would have had to have done it with the 'assistance' of his wife of 5 years as she is with him and cares for him 24/7. What my father does with his money is completely up to him and I have no issue with whoever he decides to leave it to, however, anyone speaking to him for even a couple of minutes would know that his mental capacity is seriously flawed. I would like to know whether a solicitor has any duty to ensure that any person signing a Will, that he has drawn up for them, has the mental capacity to do so? And further, can a Will be contested before a person dies?
Furthy34
- 10-Jun-15 @ 10:34 PM