Is Family Succession a Good Idea?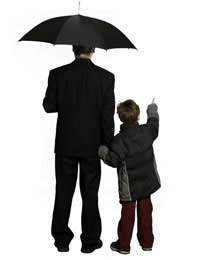 It may seem like a distant, unlikely prospect at the minute, but there is one absolute certainty in business: at some point, you will no longer work. You may retire, or you may work until your last days, but in either case the end of your working life will eventually come. This prospect can be even more daunting for a business owner and even more daunting still for someone who has started and developed their own business.
Family Ownership
Family-owned businesses are one of the most significant contributors to economies across the world. They form, for example, 40% of all organisations listed in the US' Fortune 500. This is as good an indicator as any of the importance placed by many business owners on continuing to maintain family control. If you run your own company you may well feel that, having established and built your organisation from the ground, you would wish to have a family member take control after you pass on the reins. However, there are several factors to consider before deciding once and for all to follow the route of family succession.
In the first instance, you should remember that your ultimate goal must be to find the best person for the job. It is true that, in many cases, family members are already immersed in the business to a great degree as a result of their proximity to you. This can be a great advantage, as they will hopefully already have some passion for the organisation. However, you should always bear in mind that there may be a better-qualified non-family member who could perform the job better. If this is the case (particularly if they are already a member of your organisation) you must consider whether it is more important to you to keep the business running smoothly, or to maintain family management.
Conflict
Another potential downside is the propensity for succession to cause conflict, both within the family and within the company. There are countless stories of business floundering, either because of a protracted, messy hand-over, or because of the ineptitude of the new owner. However, this can be countered by good planning, as is discussed elsewhere on this site.
Positives
There are, of course, several distinct positives to handing the business down to a family member. Primarily, it may well be the case that it is your first priority to ensure that the business remains within the family; if this is the case, no potential negatives are likely to put you off.
However, you may also consider the fact that being succeeded by a relative can often mean that the business falls into the hands of someone with a similar passion as you have, which can only be a good thing. Similarly, if the individual is well trained and well qualified for the position, it can be an unparalleled way of offering a helping hand to an aspiring businessman in the family. In any of these circumstances, good forward thinking and a good choice of candidate should minimise the risks associated with the process.
You might also like...