Structure of a Will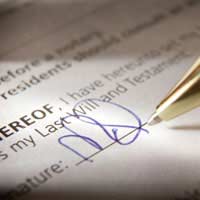 Many people are put off writing a will by the apparent abundance of legal jargon and confusing terms. However when one actually looks at the process it is very simple. Indeed, the legal protocol is fairly flexible, enabling a will to be written (at least in theory) to an acceptable level of validity by anyone.
Revocation
In the first instance, you should ensure that your will begins with a sentence indicating that this will revokes all previous "wills and codicils". This is important as, although the will should be dated, more than one separate document can cause confusion on the part of the executors. Similarly, codicils, which should also be dated, make changes to the content of wills. Again, a codicil for an outdated testament could also make matters confusing.
The remainder of the will should follow a set pattern. It should begin with your name and address, followed by an 'inventory', or list of your assets. After this there should be a list of your spouse, parents and children, followed by any other beneficiaries of your will. This should be followed by a list of gifts; details of any trusts which you are establishing; details of a guardian if you are appointing one to look after your children; notification if you are cancelling any debts which you are owed; the name of your executors; your signature, and finally the signature of your witnesses.
Formats
There are several considerations that should be noted when writing each of these sections. One of the most important of these is the way in which you explain the division of your assets. If you are passing your entire estate directly onto your spouse then you should ensure, for example, that you keep your will updated if you subsequently divorce.
Similarly, there are some factors specific to children. Many people wish to add a sentence like "I divide the remainder of my estate equally between my children". If, however, you have another child after writing your will they may not automatically become a beneficiary. In order to safeguard this, you should add "both those living and those not yet born" to the previous sentence.
It should also be noted that, if you wish to give small gifts to a larger number of beneficiaries, you can create a separate 'gift list', as long as you reference it clearly in your will.
One of the most important sections of your will is the signatures, which must follow a strict format. You and your witnesses (there must be two) should sign the document, accompanying it with their name and address and date. This must be carried out together; the witnesses must both be present when you give your signature, and must be present when each others signatures are made.
If you are incapable of signing your name then courts have upheld that other marks such as an inked thumb-print are permissible. In these cases you may also not be capable of physically writing your will. In these cases you can appoint someone else to do it for you, although this person should not also be a beneficiary.
You might also like...
Very useful. Many thanks. Now feel competent enough to write my will.
Dawn Morgan
- 8-Jun-11 @ 1:35 AM