What Should I List in my Will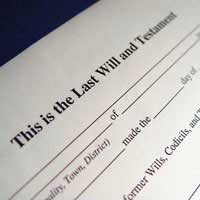 Before you set about writing your will you should have a good idea as to what you intend for its content to be. In many cases individuals wish simply to leave their entire estate to their spouse, and stipulate just that. There are, of course, reasons why this is not a good idea, which are outlined in articles about trusts and inheritance tax elsewhere on this site. If you wish to follow this course of action then you can stipulate that you leave everything that you own (less any debts that you owe) very easily. However, if you wish to leave different parts of your estate to different beneficiaries, you will need to work out exactly what you need to name in your will.
Terminology
In the first instance, it may be useful to differentiate between your 'moveable' estate and your 'heritable' estate. The first of these is assets such as money, shares, cars and jewellery; indeed, anything which is not property or land, which is known as the heritable estate. Making this distinction can be useful as the likelihood is that you will wish to bequeath your home and the majority of your moveable estate to your spouse, while making some gifts to others as well.
If you are intending on leaving anything to anyone but your spouse, it is important that you list these explicitly. If you do not outline exactly what you want excluded from that which you are bequeathing to your spouse or civil partner then it will be absorbed either into what they inherit or into the residual estate; that is, the assets that remain after debts have been paid off and other instructions in the will have been carried out.
'Gift lists'
The gifts that you wish to make do not, however, necessarily have to be listed in to actual will. Instead, it is possible to write a separate list of gifts which you then reference in the will. If you choose to do this it is vitally important that you explain what you have done in the will, and keep the list with it. The benefit of this course of action is that you don't need to alter or re-write your will every time you wish to add, remove or change a gift; rather, you can alter the gift list as much as you like without having to touch your will. This is particularly useful if you would otherwise have employed a solicitor or will-writing company to make the changes for you, or if you have your will stored with a third party who would charge per alteration.
Aside from your estate, you should also list all of your wishes for arrangements to be made after your death. For example, if you have any preferences for your funeral these should also be listed, although this is less important than the explicit listing of your financial intentions. This is because there is no law governing funeral services; if you have made your wishes clear to your loved ones then that may well be assurance enough. The financial responsibilities of your nominated executor, however, must be discharged strictly in accordance with a testament and British laws of succession.
You might also like...