Personal Accident Insurance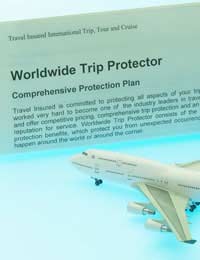 What is Personal Accident Insurance?
Personal Accident Insurance is a type of insurance that is paid out upon the premium-payer being involved in an accident that prevents him or her from engaging in active employment. This insurance is also used as a means to supplement an individual's income if their accident leaves them with injuries serious enough to prevent them from working for a lengthy period of time. Such insurance policies cover mortgage repayments, loss of earnings and other financial hardships incurred by being unable to work.
Who does Personal Accident Insurance apply to?
Personal Accident Insurance applies to any individual over the age of 18 who is in full time employment - be it salaried by a company or self-employment. Personal Accident Insurance (PAI) is available to anyone who wishes to take out such a policy and there is no age limit other than the policy holder must be 18 or over.
Where can you get Personal Accident Insurance?
You can sign up for a Personal Accident Insurance policy through your bank or building society, existing Insurance company - most companies offering an individual Life Assurance may also offer Personal Accident Insurance (PAI) as standard - or by consulting a financial advisor who will help you pick the best policy.
Claiming against a Personal Accident Insurance Policy
If you have a Personal Accident Insurance (PAI) policy and you need to make a claim against it you should doing so if you are injured severely; enough for your injuries to prevent you from returning to work. These injuries can include any of the following:
Broken leg
Broken arm
Spinal injuries
Head injuries
Major Burns
Injuries resulting from a car accident
The aforementioned list is not exhaustive but it should go some way to giving you some idea as to what can be claimed for if you are a holder of a Personal Accident Insurance (PAI) policy. If you do need to make a claim against your policy you must supply the Insurance company with copies of medical reports, police reports (if necessary and dependent on the nature of the injuries sustained) and also a detailed list of any medical expenses incurred. You should also provide the Insurance Company with a list of those expenses which need to be met during your period of recuperation such as mortgage, bank charges, Hire Purchase fees etc.
Personal Accident Insurance and your Will
It is possible - should you wish to do so - to leave instructions in your Last Will and Testament as to how your Personal Accident Insurance (PAI) should be paid if the accident you have suffered results in your death. As soon as you take out a Personal Accident plan you should adjust your will accordingly to reflect this so that in the event of untimely death there are instructions in place. You also specify on your Personal Accident plan that in the event of your death the executor of your estate will be responsible for the overseeing of any insurance claims should any be made.
What Personal Accident Insurance does not cover?
Personal Accident Insurance (PAI) plans do not cover terminal illness and/or death by misadventure. Death by misadventure can be categorised by any event undertaken by the person injured or dead which was deemed dangerous to begin with. This can include any number of so-called extreme sports or other activity where an expert has suggested you do not take part.
When taking out a Personal Accident Insurance (PAI) plan you should consult with your solicitor - if you have one - or your financial advisor and ask about how to best go about making the necessary arrangements for incorporating insurance payments into your Last Will and Testament. Your solicitor - or financial advisor - will be able to help you clarify any questions you have so it is well worth taking the time to consult with them before making any hasty decisions.
You might also like...