Protecting Your Estate from Rising Inflation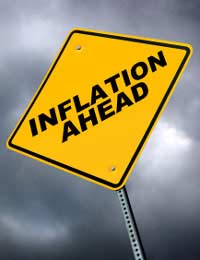 Inflation is one of the nation's pet economic hates. It is one of the numbers that has the biggest impact on our daily lives, and yet many people simply do not understand what it is.
The fact is that inflation is on the rise, and that will affect the value of your estate. You should therefore be thinking of ways that you can protect your assets from inflation.
How does inflation affect me?
Inflation is the gradual rise in the price of goods or services. Prices trend upwards, although the speed at which they rise can vary. At the moment the UK is experiencing a relatively high level of inflation, and it is set to get higher.
This has a number of important implications for your assets. Primarily, as prices rise it means that the value of your estate will be gradually depleted. You should therefore consider ways that you can minimise the impact of inflation on your assets, in order to maintain the value of your estate.
It is also important to note that inflation looks set to rise even further in the coming months. As a result, it has seldom been so important to think of ways to mitigate the damage.
How can I protect my assets?
There are many methods that could potentially help you protect your assets. The method most suitable for you will be determined primarily by the nature of the assets you are trying to protect.
Many people have an estate that is made up primarily, or largely, of cash savings. This can often be a choice borne of risk aversion; many people consider holding cash to be much less risky than investing. In a climate of high inflation, though, you need to think carefully about where you hold that cash.
If your savings are in a standard current account, or even a basic savings account, they will almost certainly be attracting interest at a rate below that of inflation. In practice, this means that your money is gradually being depleted. You should therefore shop around to make sure your cash is securing you a decent rate of interest above inflation.
What about property prices?
The property market continues to fluctuate. There is a discrepancy between the demands of buyers and the expectations of sellers, and this is causing some disruption to prices.
What we know for sure is that mortgage availability remains tight. This is decreasing demand for property – and will continue to exert a downward pressure on property prices. You should therefore think carefully about balancing your portfolio, rather than relying on a property as your major asset. Make sure, however, that you do not rush into something like equity release. While this technique can be useful, you should remember that you might need the cash value of your home in later life, particularly if you require extra care.
Estate planning is a complex area, and you also need to be aware of any potential tax implications associated with the sale or purchase of certain assets. You should therefore make sure that you seek professional advice before taking action.
THE WILL EXPERT IS FOR SALE.
This website is for sale [more info].
You might also like...