Living Will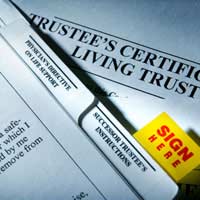 A will is an invaluable tool for codifying your intent with regard to your affairs after death. This can include your property; assets; arrangements for your children, and all manner of other things. However, many people would wish to be able to outline their wishes for their healthcare in advance, in the event that they are incapacitated or mentally incapable of making their own decision. In these cases, a living will is necessary.
Statements and Directives
A living will lays out your intentions with regard to what treatments you would agree to, and which you would refuse. There are two ways of signifying your wishes; these are known as 'advance statements' and 'advance directives'.
Advance statements are not explicitly legally binding, but they must be considered by doctors when they are deciding on what action to take. An advance statement could give a broad idea of what sort of treatments you would be happy to receive and in what circumstances, and which you would not. Furthermore, you can specify an individual who you would like to be consulted before any action was taken, were it deemed necessary.
Advance statements are useful on several counts; firstly, and perhaps most importantly, they offer peace of mind to the writer. They can also help doctors to make an informed decision about treatment and, in cases where your family disagree with the doctors; they can be used to demonstrate your wishes.
A verbal expression of your wishes must also be taken into account, but is more difficult to prove after the event. There is no legally binding form that an advance statement must take, but there are a few guidelines that it is recommended you follow. Most importantly, you must sign and date the document, along with your name and address. Furthermore, you should state at either the beginning or the end of the statement that you are fully aware of what you are doing, and capable of making the decisions outlined. You should also have a witness sign the document, to testify that this is the case.
Explicit Instructions
If there are specific treatments that you wish to refuse if you lose your mental capacity, you can declare these in advance directives. These are explicit instructions to doctors and other health professionals, exercising your legal right to refuse or accept treatment. As with advance statements, there is no specific legal format for these documents. However, these should always be written down, and witnessed. You may also wish to consider the possibility of new treatments being made available, and express your intentions with regard to these. An advance directive is legally binding, and must be adhered to by health professionals.
Having made a living will, you should ensure that it is stored with your medical notes. It is also wise to send a copy to your doctor, and to ensure that your next of kin is in possession of a copy. If your living will is exclusively verbal you should make your closest relatives aware of its content, although it is highly recommended that you also codify it in writing.
You might also like...