Will-Writing Software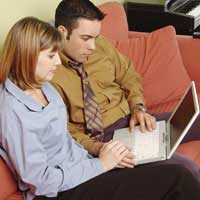 Writing a will can be a daunting prospect. Many people wish to have a will written but do not want the expense of employing a solicitor or a dedicated will writing company. On the other hand, however, a good number of people are put off by the DIY will-writing kits that are available in stationery shops, and perhaps for good reason; while some of these kits are good, the cheaper sets often lack vital information or are simply badly laid out.
Compromise
An increasing number of people are trying to find a mid-point between the expense of a solicitor and the risk of a kit, and some have found will-writing software. This comes either in the form of a program that you can buy and install on your computer at home, or as a small series of pages on the internet, into which you fill the details of your will.
The range of software that is commercially available and aimed at the general public is not that wide; several companies make software with the intention of marketing it to other companies who offer a will-writing service, but the market for consumer software is still small; most people don't revise their will more than a couple of times, and so few are willing to pay for software outright.
On the other hand, the semi-DIY internet sites which offer a similar service seem to be thriving. These sites generally charge a one-off fee for the collating of your information, and the inserting of the correct legal speak. After that, depending on the site in question, you will either be given the document in an editable form so that you can make subsequent changes yourself, or you will have to pay a smaller fee for each occasion on which you want to alter the document.
Drawbacks
These software or web-based alternatives often seem like an attractive proposition, but it is worth considering whether they are really the best course of action.
To begin with, the affordable (and, indeed, understandable) versions lack the depth that is needed to cope with all but the very simplest of wills; they are designed for those people who simply want to leave their entire estate to their spouse, and maybe stipulate some brief funeral instructions. If this is all you need, then software might be worth considering. If, on the other hand, you want to make provisions such as the creation of a trust (the reasons for which are covered in articles elsewhere on this site), then you will find this virtually impossible without a good legal grounding – and if you had that, you probably wouldn't be using the software anyway.
Aside from this, however, both DIY stationery kits and their online counterparts share one fundamental drawback, and that is the lack of contact with a qualified human being. A will is a vitally important document, and a contestable or unclear one can have severe consequences. As a result, it is always recommended that you seek professional advice for all but the very simplest of wills – and, indeed, even in those cases the help of a legally trained person would be preferable.
You might also like...