When Should I Make a Will?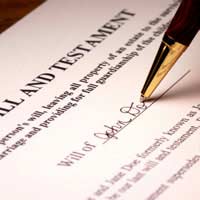 Making a will is, for many people, one of those things that you intend to do but never quite get round to. This is, of course, not surprising; depending on the complexity of your affairs it can be a fairly complex process and, regardless, contemplating your own death is not a particularly enticing activity. However, constantly postponing the writing of a will is one of the major contributing factors to the fact that 60% of all Britons die intestate.
Bearing this frightening statistic in mind, the obvious answer to the question of when to make a will would be 'now'. Although the process may not be a lot of fun in the short term, it will give you the peace of mind that your affairs will be dealt with as you have intended.
Dependants
If you have any dependants, it is vitally important that you make explicit provision for them as soon as possible. In the event of unexpected death, your assets may not be divided as you would have wished; if your estate totals more than £200,000 (which, if you own your house, is fairly likely) then your spouse will find that they are not entitled to your total assets, regardless of your unwritten intentions. In order to ensure that you estate is passed on correctly you must codify your intentions in a legally valid will.
Similarly, if you have children you should definitely think about writing your will sooner rather than later. In the event of the death of both parents, minor dependants (that is, children under the age of 18) will be passed onto a guardian. However, this guardian will be decided upon by the courts, and may well not be the individual that you would have wished to take care of your children.
Modest Assets
Of course, if your assets are modest (particularly if you do not own your house) then the impetus to make a will is lessened. However, regardless of the size of your estate, if you are not married or in a Civil Partnership, you may consider stipulating who your beneficiary should be. Co-habitees who are not covered by a Civil Partnership have a hard time securing their partner's estate after death, and a will obviously helps in these cases.
In fact, a will is a useful tool at almost any stage of life. If you have no dependants and are not married, your estate will pass to your nearest living relative. If you have no surviving relatives, then you may not see the point in making a will. However, you should bear in mind the fact that a will is not created for solely financial reasons; rather, you can stipulate such things as your preferred funeral arrangements, as well as, for example, the donation of your body for medical research. Furthermore, in the absence of any dependants or relatives, you may wish to pass your estate on to a charity; again, if you wish this to take place it must be written in a will.
You might also like...