Income Protection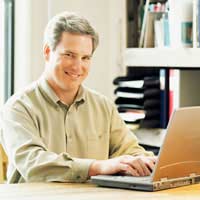 It is a sad fact of life that accidents do happen. Considerable numbers of people are prevented from working for significant periods of time every year as a result of accidental injury or illness and this can cause great financial hardship.
Self-Employment
Income Protection has been designed with the intention of relieving some of this hardship in the event that such a misfortune should befall you as the policy-holder. Many employers now offer financial provision for extended illness, but this is certainly not universal. Income Protection is, perhaps, of the greatest use to self-employed people; those who do not have an employer will not have access to any of these benefits and, as such, must make their own provisions.
Income Protection policies vary greatly between companies. You should bear in mind, however, that the vast majority will not cover your entire regular income. Rather, most will offer to replace around 60% of what you would have been earning, up to a maximum annual amount. This is generally around £120,000. As such, Income Protection is intended to cover your living expenses and ensure that you can get by. Similarly, taking out a plan helps to grant peace of mind to those who do not already have such provisions in place.
Debt Protection
Income Protection is also offered on such things as credit cards and personal loans. This may also be a good idea, again particularly if you are self-employed. The premiums are generally very low – sometimes as little as 50 pence in every £100 will be enough to safeguard your ability to pay back your debts were you to be prevented from working.
Even if you do not take out general Income Protection insurance, safeguarding your ability to pay back your debts is highly recommended; deeper financial problems often begin as a result of missed payments, which then lead to penalty charges and mounting debts. Income Protection for your loans and credit cards can help ensure that you avoid this situation.
It should be remembered that Income Protection is, on its own, not sufficient protection if you have any dependants. As a result, many of those who take out Income Protection do so as part of a package of insurance products. Primarily, you should look at either a traditional life insurance policy which will pay out a lump sum to your surviving dependants on your death, or an arrangement such as Family Income Benefit. Rather than paying a lump sum, these policies guarantee to pay a monthly income to your family between the time of your death and the expiry of the policy.
Finally, and perhaps most importantly, you should always ensure that your surviving relatives will have the ability to pay off any outstanding debts were you to die unexpectedly. This is particularly important if you are the main earner in your household. In order to achieve this, you should look at policies such as Mortgage Protection plans, which are designed to pay back large debts, and are described in more detail elsewhere on this site.
You might also like...
My daughter is in a mental health unit under a 6 month section, she has been taken to a&e by them after swollowing several objects but the staff won't tell me what the doctors have said without my daughters permissio. So all the staff there know everything about my daughter but I'm being kept out of the loop, please could you advise me what I can do.
Elaine
- 5-Dec-15 @ 9:20 AM