Should I Seek Counselling?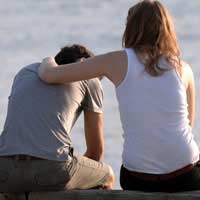 Bereavement and the period of grieving that follows, is an incredibly difficult time for all those who experience it – and, of course, we will all experience it at some point during the course of our lives. Everybody deals with, and progresses through, these periods in their own ways and at their own pace. There is no 'right' or 'wrong' way with which to cope with bereavement.Most people will find their way through the process of grieving on their own terms; although everybody's experiences will be unique, the ultimate conclusion is the same – it is not expected that you should be able to 'forget' about the person who has died, but grieving should help you to cope and live with what has happened.
Getting Help
There are, however, circumstances in which it may be beneficial to seek help from a third party. Some bereavements are, of course, more traumatic than others; for example, the loss of a child can often result in the need for a bereaved parent to find independent help. This is a tool to be used when needed. There is great stigma attached to counselling and those who choose to use it; this is entirely irrational, as it is simply another medical service to which you are entitled if you need it. You would not feel guilty about going to a doctor when you had flu, so there is no reason why you should be put off by counselling because of its negative social connotations.
Of course, not everyone requires counselling. If you can cope with bereavement on your own then this is to be encouraged. However, there are certain circumstances in which you should certainly consider asking for help. In particular, you should think about finding professional help if you think that you may be entering a deeper, depressive state.
If you begin to have suicidal thoughts you should seek help immediately. However, the symptoms do not necessarily have to be as severe as this: if you have a prolonged loss of appetite or feelings of lethargy; if you notice a major change in your weight; if you have prolonged sleeping difficulties, or if you simply do not feel as if you are capable of dealing with what has happened, then counselling may well be one answer.
Options
There are a variety of different types of help that are available. In the first instance, many people find it useful to simply read about the experiences of others; there are a huge number of such resources available on the internet, and in books which are written specifically on this subject.
For many other people, however, this is not enough; what they require is human contact and a chance to discuss their problems. If this is the case, there are a number of bereavement support groups available all over the country. These may take the form of group counselling sessions, in which sufferers are invited to share their experiences with a number of others. Similarly, it is possible to find family counselling sessions, which you can attend with a number of other family members.
Finally, if you feel that you need individual attention, it is always possible to seek help from a professional who will attend to you on a one-on-one basis. Whichever option you are considering, however, don't feel held back; these services are there to help you, and there is no shame in using them.
You might also like...
@ramondo. Check for a will in places such as the hospital/care home if he was in one, any solicitor that he may have dealt with over the years (check any other documents you have access to), his accountant or bank etc. You can also trythe Principal Registry of the Family Division on phone number: 020 7947 6939 if the will was registered there will be a copy there.There are also companies who will trace the whereabouts of a will for you (they charge a fee for this of course).
TheWillExpert
- 4-Mar-15 @ 10:56 AM
I have my fathers death certificate but need to find the solicitors that held his will. would anyone know how I can obtain a copy for my records.
ramondo
- 28-Feb-15 @ 10:20 AM