Organising Obituaries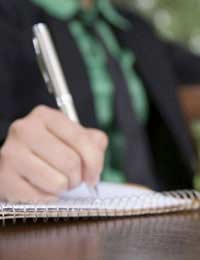 After the death of a loved one it is common for people to wish to make some sort of announcement or commemoration. Although the obituaries pages in newspapers have become associated with famous or well-known people, there is no reason why they can't still be used to mark the death of a member of the general public; indeed, that was their original purpose.
Cost
Newspapers can charge a lot of money for obituaries, and so you should investigate exactly what it will cost before you begin writing. Generally papers charge either by the word or by the line and so, if money is an issue, brevity may be the key to a successful obituary.
In either case, writing the passage can be a long and difficult process. It is natural, of course, to wish to do the individual justice in just a few sentences, but you should consider what the purpose of your obituary is. If it is simply to notify potentially interested parties of the death, and the time and location of the memorial service, then a couple of lines will do. If, on the other hand, it is meant as a mark of commemoration, then a little more space may be required.
There are certain elements that it is recommended be included in an obituary. The first is, of course, the name of the deceased individual, and their date of birth and death. After this some people choose to include where the individual died, and perhaps in what circumstances. This is generally followed by a sentence describing their lineage; who they were preceded by in death (for example spouse or parents), and who they are survived by (generally children, grandchildren or surviving spouse).
If you are intending the obituary primarily as a commemoration, then this may be followed by a brief outline of the major events of their life. This might include marriage; the birth of children; career achievements; or other notable occurrences. This can be a good way of summing up the good in an individual's life, particularly if they had filled it well.
Visiting
Obituaries are generally ended with details of where visitors should go and at what time. If the body is lying in an open-casket state then you might wish to give details of where and when visitors may pay their respects, if at all. After this you might wish to outline when and where the interment and service will occur, and whether or not visitors should contact someone before turning up. Finally, an increasingly common occurrence is a request for donations to be made to a charity in the place of flowers.
While an obituary can be a fitting way to mark someone's life, and an effective way of informing people of a death, the prevalence of identity theft as a crime in recent years has led many experts to advise against their writing.
There have been numerous cases of fraudsters scanning the obituary pages and then taking on credit cards or loans in the names of deceased individuals. You should be wary of this and, if you still intend on placing an obituary, you should keep track of any correspondence addressed to the deceased individual from a bank or other financial institution.
You might also like...
How can I locate the will and life insurance policy when I have no idea who had then or where they are ?? I suspect the step mother and step sister have prob got them but they are not sharing that info
Melo
- 16-Jul-15 @ 7:52 PM
hi my father died on 3rd Sept 2014 in Jamaica. He initially had a will and life insurance policy here and myself and my brother Derek were 1st and 2nd executors. My father married a woman called Hortense Lucretia beckford and they moved to Jamaica. Well as it happened he died but it was all a bit weird she didn't contact either my brother or myself to tell us he was in hospital or the fact that he had died and apparently months before my father showed her daughter where the wills and life insurance policy were in the house in Jamaica. Apparently both my father and his wife had taken their wills away from Poole Alcock solicitors in Crewe saying they had made new wills. I have found this out from her daughter. Well I was persuaded to pay for her daughter to go to Jamaica as she told me she couldn't explain where the wills were so needed to show me .so I paid and both myself and her daughter jetted off to JA. When we got to the house both Marcia and her mother disappeared to the bedroom. Upon returning I asked if she got the will and life insurance policy. To which they said no. Her mother is supposed to be suffering fromaltziemers so Marcia did all the talking. By the time I got in the bedroom and Marcia pointed out where the wills and life insurance policies were supposed to be they were expectedly gone no sign of them at all. We eventually buried my father and I returned home after I had put the house on the market which was my fathers request to me before he died. He asked me to do this once I found out he was in hospital. Which was only due to a friend being in JA at the time and they found out and rang me. Well I tried the 2 banks that she told me about and the only solicitors that she said they had used but got no joy. I assume that the step mother and her daughter have had both the life insurance policy and the will and hidden them until I left Jamaica. They are both in England now living at Marcia's house in Birmingham and I hear that they have been back to Jamaica twice since November which is when they came back. I came back in October
melo
- 16-Jul-15 @ 7:46 PM