How To Go About Destroying a Will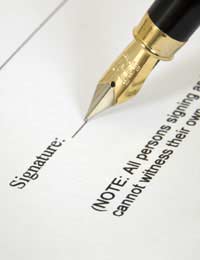 If you have made a will and for any reasons wish to change it then it is important that any previous wills are destroyed so that when the time comes there can be no confusion as to which will is valid.
It is sometimes easy to forget to destroy an old will and this can lead to problems after you or a loved one has gone especially if certain provisions have been made in a previous will which been changed in a newer one. For this reason the disposal of a will if it is defunct is of the utmost importance.
If Your Solicitor Has Drawn up Your Will
If you have had your solicitor draw up a will on your behalf then he or she will most likely be in possession of a copy of it. If this is the case then you should speak to them regarding the destruction of the previous will in favour of any more up-to-date will.
He or she may ask if you wish them to destroy it or if you wish to do it yourself and this is very much your own decision. However for your own piece of mind it might be best if you obtain any and all copies of the will in their possession and destroy them as you see fit.
If you have drawn up a new will it is not necessary to have the same witnesses sign it again, as long as the will is signed by you, witnessed by an independent third party – i.e.: someone who does not seek to benefit from it – and your solicitor then it is legal and binding.
If You Have the Copies Yourself
If you have used a DIY will pack and produced your own will then you will have it in your possession, either securely locked away or in a place where it is not easily found. Should you decide that the will for any reason needs to be changed you must ensure by whatever means you see fit, that the will and all of its subsequent copies are destroyed.
Destroying The Will Yourself
If you have a shredder this is a good way of ensuring that the will cannot be read and also you should put a clause into your new will stating that all previous copies have been destroyed and that this is the legal and binding copy.
If a will is torn up and not properly disposed of then there is a chance it could be reconstituted and the case argued that it was destroyed accidentally. If this is the case then the will can be contested which involves potentially lengthy and expensive court hearings and also having the assets of your estate frozen.
It is perhaps best if you burn any old copies of your will, this way there can be no chance of any part of it being reconstituted. Again you must ensure that in your new will there is a clause that states this will is the most up-to-date and negates any previous ones.
Again you should ensure that the will is signed by you, witnessed by a third party with no benefit from the will, and kept in a safe place. It may be best – even if you have written the will yourself – to allow a solicitor to keep it for you and act as executor in the event of your death.
You might also like...
My mother altered her will in writing to change a trustee to another person.The two witnesses initialled the amendment but she didn't.She did write a letter explaining why she had made the change.If the amendment is not valid, is the will still legally binding in its original form as the Probate Registry is refusing to issue probate.
Pipa
- 19-Jun-18 @ 11:15 AM