The Effects of Bereavement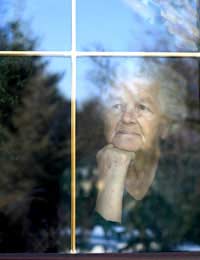 Bereavement is a monumentally stressful event, and something which can exert huge physical and mental pressure on the sufferer. The great emotional effects of this occurrence can manifest themselves in numerous physical ways, many of which can be unexpected.
The first thing to remember when trying to cope with bereavement is that, as clichéd as the statement appears, it affects everyone in totally different ways. Regardless of whether you become more introverted, or cry uncontrollably, there is no 'right' or 'wrong' way to express your grief.
Fight or Flight
One of the most important physiological effects of bereavement is an increase in activity in the nervous system. Large amounts of steroids are released by the body, heightening your awareness readying you for action. In tandem with this, the heart begins to beat faster. These are classic symptoms of the 'fight or flight' syndrome, which is the natural human reaction to a potentially threatening situation.
Conversely, however, those who have suffered bereavement often feel lethargic and unable to motivate themselves. This is another physical response to the enormous stress being placed on the nervous system, but it also reflects the pressure being exerted on the individual's mechanisms for maintaining immunity.
It is very common to suffer minor infections and general illness around the time of bereavement. Similarly, recurrent or chronic health problems frequently become inflamed as a result of the drop is activity levels of the cells which are normally used to fight infection. It is very important to keep a close eye on health problems such as diabetes after having suffered bereavement, as it is frequently the illnesses that require the closest control that become most difficult to cope with.
Depression
Bereavement will almost certainly lead to temporary depression. This can, in turn, cause problems such as sleep disruption and anxiety attacks. In many cases, these psychological problems manifest themselves through hallucinations; it is not at all uncommon for a recently bereaved individual to have very clear visions of the loved one that they have lost. These occurrences should not be mistaken for symptoms of a more serious psychological problem; in the great majority of cases, these are perfectly normal expressions of grief. All too often, particularly for older people, it is thought that bereavement has triggered the onset of dementia. A strong sense of support from those close to the individual, rather than concern over their mental health, is almost always the more appropriate response.
If you are close to someone who has been recently bereaved, it is vitally important that you offer any emotional help that you can. Furthermore, it is important to keep a watchful eye on the state of their health; a disproportionately large number of people die in the year following bereavement. This is particularly true of men, who seem to have fewer social support mechanisms. Ensuring that there are people close by to keep watch is one of the best ways of helping to avoid longer-term physiological problems.
You might also like...