Alternative Funeral Options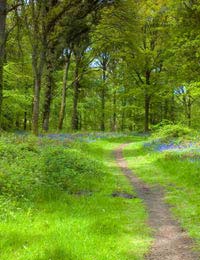 Many people are under the impression that a funeral must be conducted in a specific way. It is, of course, inevitable that we will all (hopefully, at least) have our lives commemorated in some way but, contrary to the common misconception, this does not have to be through a traditional funeral.
Break with Tradition
It has become increasingly popular over recent years for individuals to shun the black suits and chipboard caskets that are now synonymous with a funeral. Rather, many people now choose to follow alternative paths for the ceremony; indeed, even the name is changing - a growing number of people now wish to have a thanksgiving or a celebration of life, rather than a 'funeral'. At least an equal number of people, however, shy away from this idea as a result of their belief that to follow a non-conventional program for a funeral is illegal. In fact, this is far from true.
Many people's desire to find an alternative type of ceremony is informed by their own environmental concerns (or, more pertinently, those of the deceased). There are numerous environmental downsides to traditional burials, particularly when it is considered that the vast majority of caskets are made from fairly thick, un-recycled wood. As a result, there is a growing preponderance for people to choose more ecologically sound alternatives. The main example of this is the 'eco-pod'; these are caskets which are made from 100% recycled material. They generally consist entirely of paper and a natural hardening substance in order to give it strength. They are very light, and biodegrade quickly.
Woodland Burial
Many people find that traditional funerals place the emphasis too heavily on grief, and do not impress upon the attendees the joy of life. This is another of the major reasons why some people seek alternative arrangements. Similarly, it is often thought that the primal nature of death as an event is lost in the strict choreography that can often come with a traditional funeral. Many individuals, therefore, now
arrange their own ceremonies from scratch
. A popular form that these often take is a woodland burial; there are now a great number of woodland burial sites across the country, in which the traditional headstone is replaced by a sole tree.
Furthermore, an increasing number of people are now requesting burial at sea; while the process for receiving permission to do this is slightly more drawn-out (you must apply to the Department for Environment, Food and Rural Affairs), there is no reason why this should not be possible.
It should be noted that the help of a funeral director can still be enlisted if you require assistance in planning an alternative funeral. The Natural Death Centre should be able to help you find a suitable firm if you would like to investigate this. Most importantly, you should remember that there are few legal requirements for a funeral; you do not require a hearse, a coffin, or a member of the clergy. Although it may seem macabre to consider the event in such terms, imagination is the key!
You might also like...