Helping Children Through Bereavement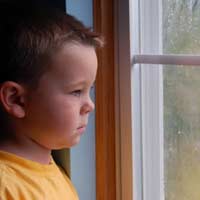 The loss of a loved one is not an event which solely affects adults. Children can be very heavily affected by bereavement, and experience grief, as adults do. The fact that they may not be able to articulate their emotions in the same way that an older person may be able to (although, indeed, grief also often takes its toll on the adult ability to speak about their feelings), but this does not mean that they do not experience those same emotions.
Common Characteristics
In fact, children often display many of the same symptoms of the grieving process as adults too, albeit in a perhaps less mature way. The most immediate of these is likely to be denial; as is the case with many older people, it is often found that the most common first response on the part of the child is to attempt to guard themselves from the realities of the situation by convincing themselves that it has not happened. In many cases this manifests itself in, amongst other things, an apparently happy disposition. In reality, of course, this is no more than a method of self-protection, and should not be considered to be a sign that the child is not grieving.
Another common factor is the externalisation of emotions. In this way, it is common to see children's behaviour deteriorating following bereavement. The understandable anger that is felt can be manifested through a lack of adherence to the normal standards of the family, and it is often found that school performance suffers. This is, of course, entirely understandable; aside from the anger that is felt, it is to be expected that the child's mind would not be entirely focused on school work.
Delayed Reactions
The effects of bereavement may be felt immediately by children. They may, however, not be fully experienced until a far later date. These 'delayed reactions' can be highly damaging on a psychological level, and many experts therefore suggest that as much should be done as is possible to ensure that the child can come to understand the gravity of the situation as quickly as possible. There are several ways in which this can be helped. In the first instance, it is always recommended that remaining adult relatives are as honest with the child as possible. It is very common for adults to avoid the subject of the bereavement, under the impression that bringing it up will only make things worse. In reality, however, it is far better for the child to fully understand what has happened in order to ensure that the time-scale of the grieving process is minimised. In this way, adults should be encouraged to accurately explain the situation; using phrases such as 'lost' or 'sleeping', while perhaps easier in the short term, do not help the long term grieving process.
It should also be noted that, in most cases, it is far better to allow the child to make some of their own decisions with regard to questions such as whether or not they should attend the funeral. With the proviso that they are as well-informed as possible about what these events will entail it is generally thought that these rituals can offer a helpful sense of finality, even though they can be immediately traumatic.
You might also like...