Naming Children's Guardians in Your Will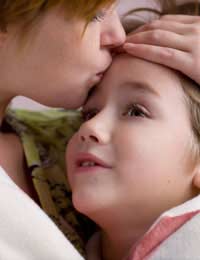 As much as we would prefer not to have to think about such things it is important to be prepared just in case anything happens to us as parents of small or young children.
No one wants to consider that anything will happen to them until long after their children have grown up and moved away, starting families of their own, but it is wise to be prepared just in case fate intervenes.
As such, and especially when it comes to young children, it is best to make provisions as to the welfare of your children rather than have them left to the mercy of social services who often after a parent dies, struggle to find permanent homes for them and have them either fostered or placed in care.
Making a Will
The truth is many of us don't leave wills behind so our families and loved ones often find themselves in the unenviable position of having to decide what to do with our estate. The estates of most people are valued at best with the selling of a home and its contents but the issue of what happens to the children must be addressed.
Naming a Child's Guardian
Before you write your will and name the legal guardian of your child – or children – you must first decide who you wish the guardian(s) to be. You must of course seek their permission to do this and discuss the matter at great length before any decision is reached. Making a will can be difficult enough but the process can be made more difficult if you do not have the consent of the individuals whom you name as legal guardians.
When it comes to making your will you should try to obtain written permission from the person or persons you wish to look after your children once you have gone. This is the easiest and most effective way of ensuring there are no complications after you have gone.
Many individuals have given verbal permission but once the time has come to make good on this agreement they can feel pressured and wish to drop out. If written permission is granted this shows that (a) they are serious about the task they have been asked to perform and (b) that they have no intention on going back on their word.
What to Do Once You Have Named Your Guardian
Once you have agreed with the relevant parties that the guardians you have chosen are suitable and that everyone has agreed you can then set about writing your will to reflect this. In doing so you must include any written permissions from the guardian or guardians to be so that there can be no doubt or complicated wrangling with social services, courts and extended family members. It is important that the will reflects you and the individuals in question are in full agreement and that you are of sound mind at the time of writing.
The best way to do this is to have the will witnessed by two independent witnesses who are not in any way involved with the outcome after you have gone.
Explain to the Children
This is something that no parent likes to have to do. Explaining to a child or children that they have to live with someone else if you are no longer around is difficult so perhaps it is best to leave a letter or audio/visual diary for them so that they can understand for themselves exactly the reasons behind your decision.
As perhaps morbid as this may sound it is the best way to ensure that the children know the decision is not one that has been made by anyone other than their parent(s) and will help to some degree with their ability to adjust to their new living arrangements.
Further Information
For further information on how to go about naming a guardian in your will it is best to contact your family solicitor if you have one or make an appointment to meet with a solicitor who specialises in family matters. You do not have to have the solicitor draft the will for you; this can be done by purchasing an off the shelf will pack or downloading one from the Internet. But you must ensure that the solicitor charged with dealing with your legal affairs after your death is fully appraised of the situation.
You might also like...