What Are the Responsibilities of a Children's Guardian?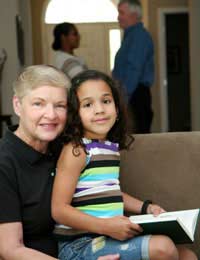 Choosing a guardian for your children is a task that is overlooked by a remarkable number of parents. This is probably because the prospect of a child losing both their parents is something most people would wish to avoid thinking about and, as such, many parents simply do not get around to making a choice. However, it is vitally important that you make an informed decision about your children's guardian in order to ensure that, if the worst were to happen, your children would be cared for by the individual or individuals of your choice.
In order to make this decision it is important that you fully understand the responsibilities of a children's guardian. These responsibilities are significant; depending on the age of the child, becoming a guardian is very much akin to becoming a parent. As such, it is vital that you discuss your choice with your preferred candidate right from the outset.
What is a Guardian?
A child's guardian will assume all of the responsibilities of a parent, in both a legal and practical sense. In most cases this will involve the child living with the guardian. Furthermore the guardian will be legally responsible for things like school attendance and the medical welfare of the child. They will be the individual that attends doctors' appointments, for example, or parents' evenings at school.
In some cases there is an obvious existing guardian; grandparents are a popular choice. However, in many cases no such individuals exist. Bearing in mind the significant responsibilities and change in lifestyle that is likely to result from assuming guardianship of a child, you should think carefully about a few important aspects of each potential candidate's existing lifestyle.
Choosing a Children's Guardian
To begin with, you should think about the age and health of the potential guardians. If it seems unlikely that the individuals will outlive you, they are probably the wrong choice. Similarly, if they are chronically unwell or not fit enough to take care of the children you should probably make another choice. You should also think about the temperament and priorities of the potential guardians. It is unlikely that you would be considering them if you did not get on well, but you should consider their lifestyle choices and priorities. Are you confident that they would bring up your children in a way that you would approve of? Similarly, you may wish to consider the religion of the potential guardians. If you or they are religious, you should give some thought to how this will affect your children's upbringing – particularly if you have different religious beliefs.
Finally, you should take steps to ensure that your choice of guardian is made explicit and legally valid. The simplest way to do this is to give details of your choice in a valid will, or a codicil to an existing will. Remember that this should be kept up to date; it will need to be changed, for example, in the event of the death of your chosen guardian. Further information on writing this document is available elsewhere on this website.
You might also like...