Pre-Paid Funerals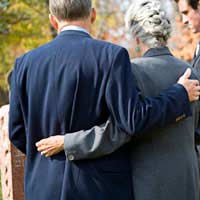 Pre-paid funerals have become considerably more popular in recent years. The idea of planning your own funeral to such an extent that you actually pay for it can seem macabre to many people but there are plenty others for whom it seems an eminently sensible idea. It certainly presents many potential benefits; it allows the individual to ensure that their funeral is arranged in exactly the manner they desire, from the choice of funeral director to the location of the service.
Peace of Mind
Another of the major benefits of pre-paid funerals is the fact that it offers peace of mind to those who are worried about passing on the cost of their funeral to their surviving relatives. Many people who either know they are going to die or are nearing old age and wish to make the relevant arrangements are concerned that their relatives will not be able to bear the cost of the funeral. However, there are other options to a pre-paid funeral; it is possible to outline your wishes in your will, and then set aside a portion of your estate for the purpose of paying for the arrangements.
Leaving arrangements in a will does not, however, ensure that the funeral will occur exactly as you would like. If you are concerned about having as much input as possible then a pre-paid service may well be the answer. There are a large number of funeral directors offering these packages, as well as companies who have been established solely to deliver pre-paid funerals.
The choice can seem daunting, but it actually puts you at an advantage; the larger the number of organisations offering pre-paid funerals, the greater the opportunity is to 'shop around'. This is very important, as some of the contracts that you may be offered are less than fair. You should look carefully at any contract that you are offered, and ensure that all of the arrangements that you would like to make are covered by the pre-pay plan. Furthermore, you should ask for details as to what will actually happen to your money between the time of payment and the time of the funeral.
Some funeral directors have been known to use the money to make investments, which is probably an unacceptably high risk; if your money is lost or the organisation collapses, your relatives may still find themselves liable for the costs and your arrangements will have been lost.
Payment Plans
A further important question relates to your payment plan. Funerals can be expensive, and so many people choose to stagger their payments over a certain number of months. Before you embark on such a plan, you should ensure that there is some protection for your money if you were to die before completing payment. Some directors offer to match your payments up to a certain point, but in some cases you may be required to make allowances in your will.
In every case, your local Citizens Advice Bureau should be able to give you a list of reputable funeral directors who offer pre-paid plans.
You might also like...