Financial Help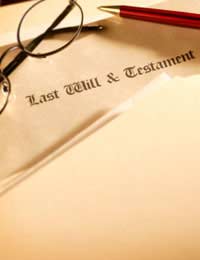 Writing a will can be a difficult task. In most cases the choice of arrangements in the document are obvious: the guidelines for inheritance of your estate for example, may well seem to be a foregone conclusion. In many other cases, however, will-writing can present a number of difficult decisions and problematic situations, and the cost of having the document written properly can be yet another such problem.
Validity
If you have decided to write a will, and have gone to the trouble of reading information such as this on the web, then it is likely that you wish for it to be written properly. A badly or incorrectly written will can be no better than no will at all, as certain strict rules must be adhered to in order to make the document legally valid and therefore guarantee that your wishes are met (for more information on this you may wish to read other articles about the validity of wills elsewhere on this site).
It is perfectly possible to write your own will, but there is a high chance that you lack the legal knowledge to ensure its validity, unless you are writing a very simple such document. Alternatively there are 'DIY' packs available for those who require some extra help, but these can be patchy and generally do not include advice on slightly more advanced tools such as discretionary trusts. Similarly, the lack of personal contact still leaves open the possibility that you could make fundamental errors. In order to avoid this possibility, the safest course of action is to enlist the services of a good solicitor to write your will with you.
Charitable Services
Although the use of a solicitor will hopefully grant you peace of mind, it can be a remarkably expensive prospect. Many solicitors may charge upwards of £100 for a basic will-writing service. This may well include the storage of your will for easy access by your executors, but this can still represent a significant amount of money, particularly if you are living on a pension. In order to mitigate some of this financial burden, and continue to encourage individuals to make a will, a number of schemes have been devised to offer financial help to people who cannot afford to have the document written professionally. Unfortunately the government does not currently offer any such help, but some charities have established systems which might be of interest to you.
Perhaps the most widely known, and seemingly effective, of these schemes is that run by Age Concern. This charitable organization has established links with solicitors across the country who will write your will entirely free of charge. In most areas this depends upon you going to a 'drop-in' session in your borough, where a qualified professional will listen to your wishes and codify them in a legally valid document.
Alternatively, some solicitors will travel to your home, although there may be a small fee associated with this service. In some areas Age Concern's free service is available regardless of your age, but there is likely to be some condition with regard to the value of your estate; most state that your estate must be worth less than £175,000 in order for you to qualify. You should also remember that these sessions tend to be popular and you may not, therefore, be able to go through all of the details of your intentions. To maximise the efficiency of your time, read the articles elsewhere on this site for more information on some of the possibilities available to you before you meet with a solicitor.
You might also like...